AMPA Jazz Ronde 2022
The AMPA Jazz Ronde is back! On the 15th of December 2022 the third edition of the AMPA Jazz Ronde takes place at various venues in the center of Tilburg (NL), showcasing the newest generation jazz musicians.
After many registrations, Make it Jazz made a selection of fresh jazz ensembles that are going to blow yours socks off. The artists are Dutch and international students or alumni from conservatory all over The Netherlands.
The entrance is free for everyone.
Check our line-up!
7.00 PM
HIEDRA  //  Peerke Meubels
7.30 PM
BERTRAM  //  Factorium Cultuurmakers
8.30 PM
Yannic Forster Trio  //  Café Brandpunt
Jelle Willems Trio  //  Burgemeester Jansen
Emiliano Roca Trio  //  Café Bolle
9 PM
Jungmi Yun Quartet  //  't Elfde Gebod
Murray/Mazzù/Jenkins  //  De Vos en De Craen
Jazz is Back  //  RAW
9.30 PM
Peter Willems Trio  //  Café Slagroom
Aseo Trio  //  Café Stoffel
BONG Trio  //  Factorium Cultuurmakers
10 PM
Nohmi  //  Café Bolle
Tiago Lageira Trio  //  Café Weemoed
Ping-En Hung Collective  //  Café Berlijn
12 AM
Afterparty & Open stage (Session leader: Tijn Heijblon) //  Café Bolle
PROGRAM: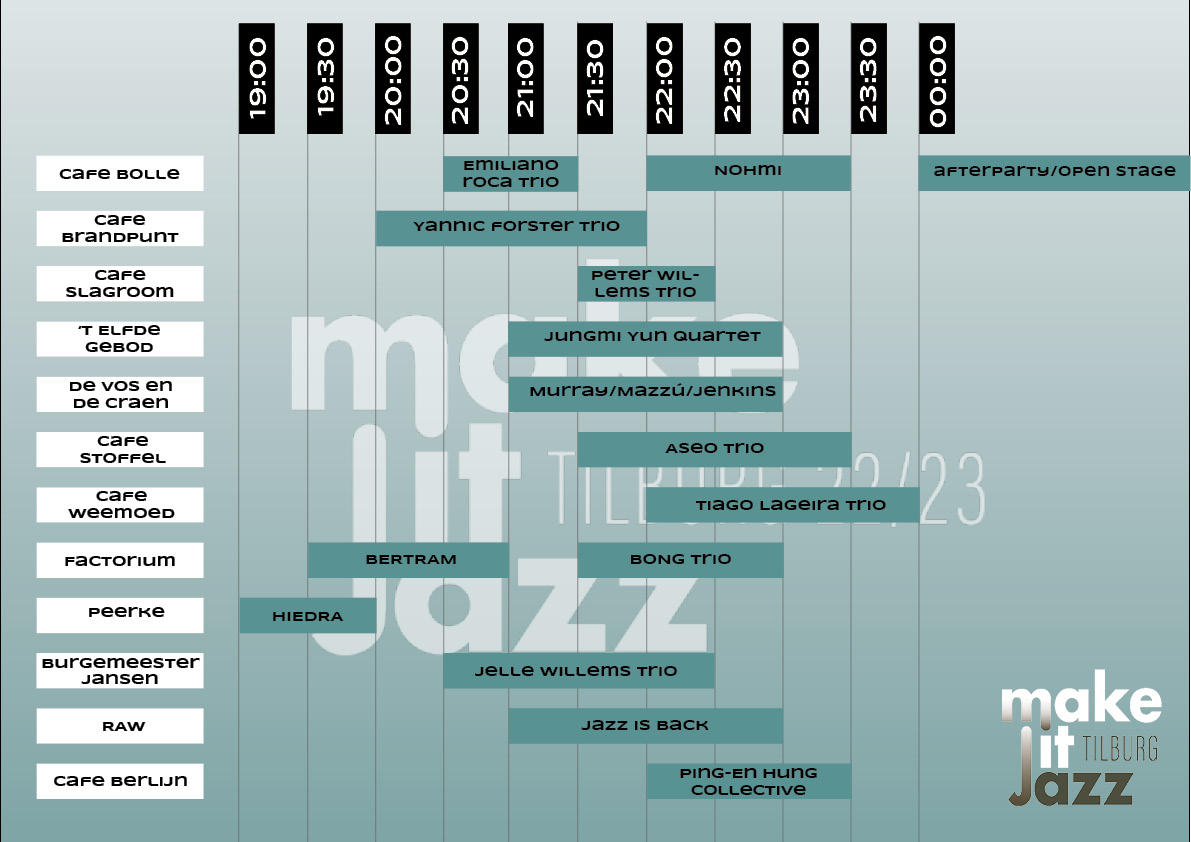 Impression AMPA JazzRonde